ALI MILLER x SKETCH LONDON
For over 10 years Ali Miller London has partnered with the iconic Sketch Restaurant – a celebrated destination in London's Mayfair, known for exquisite food and drink, and eclectic music and art.
A FUSION OF ART AND CULINARY DELIGHT
You will find our tea sets in the Parlour room, where the vibrant and eccentric interiors merge seamlessly with our playful storytelling. Guests are transported into a whimsical world, offering them a unique and captivating dining experience. We love how Sketch perfectly mixes and matches the Ali Miller London collections, adding to the sense of fun and playfulness, delighting guests as they dine on the delicious patisseries.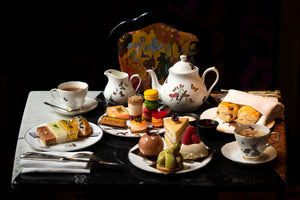 MIXED & MATCHED COLLECTIONS at SKETCH
"For those seeking a unique and enchanting experience in the heart of Mayfair, the Ali Miller x Sketch London collaboration promises you an unforgettable fusion of art, eccentricity, and culinary delight."
Ali Miller