LOOKING FOR A UNIQUE GIFT FOR SOMEONE SPECIAL?
We have the perfect gifts for every occasion and tastes. Our intricately designed homeware sets are perfect for nature lovers, story lovers, lovers of all things British or anyone who just loves the perfect cup of tea.
Here's a helpful guide to our collections to make your gift buying simple this festive period.
For Nature Lovers
Many of Ali's designs are inspired by the beauty and wonder of the natural world. From family walks in the woodland and meadows of Hampstead Heath, to playing in the garden as a child watching the magic of things grow. Our nature inspired bone china collections make a unique gift for any nature-lover, they will lose themselves in the intricate designs that tell beautiful stories.
For Story Lovers
Ali is a master storyteller using her intricate designs to tell her whimsical and often humorous stories, helping the viewer to let their mind wander to wherever it takes them. Ali takes inspiration from her childhood which was full of books telling stories of magic and wondrous worlds. Our story focused tea sets, including our Alice in Wonderland inspired collection will take you on a journey with every sip.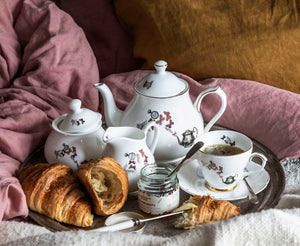 For Lovers of all Things Quintessentially British
Afternoon tea is a cherished and uniquely British tradition that brings people together over a shared love for tea, delectable treats, and convivial conversation. At Ali Miller London, we celebrate the timeless charm of afternoon tea through our collections and intricate designs that are inspired by British surrealism, humour and sensibility. Our luxurious collections provide an authentic afternoon tea experience your loved ones will never forget.